Don't be afraid to fail. Greater risks equal greater rewards.
If you are new to Cedar & Rush, Work Smarter, Not Harder (WSNH) is a weekly column showcasing Chicago's leading ladies – think CEO's, entrepreneurs, and everyday women making a difference – and how they work smarter, not harder. I decided upon Monday so we can kick off the week asproductive and as motivated as possible. If you love a particular piece of advice or have any tips of your own, please share by tagging #WSNH2015 on Instagram and Twitter.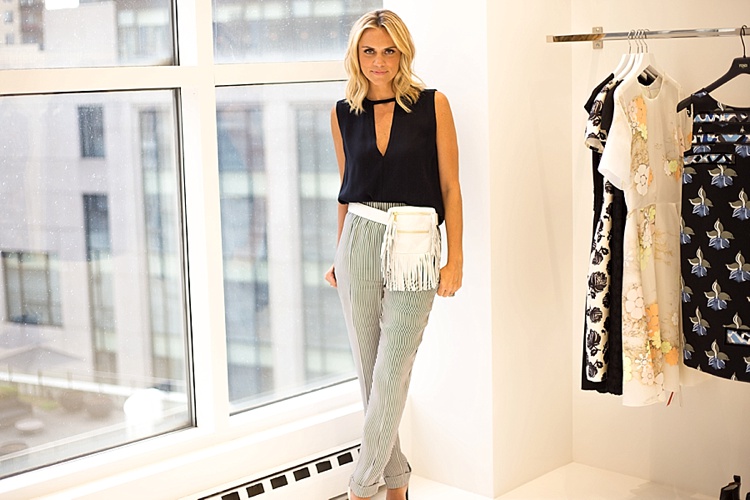 Hi friends! Today's feature is AWESOME and ecstatic to have Bridget McDermott of 84Rockwell. Let me start out by saying she used to work for Oprah. Yes, the Queen herself. So you know already there are some key takeaways. However it's her signature bag line that is taking Chicago (and Coachella and Stagecoach) by storm. If you are attending Lollapalooza, then hop on the bandwagon ladies. I am personally obsessed with this look. So without further adieu, I'll let Bridget share her incredible story herself!
Bridget, please explain your job and any other networks or projects you participate in on a regular basis. I am the owner, founder, and designer of 84Rockwell – a luxury handbag line that is made in the USA, more affectionately Chicago. 84Rockwell officially launched in October 2014 with my signature bag, the Daley 'Xrossover', that I designed to simplify the complex woman…aren't we all?!  I've expanded the line to include the Gabby 'Fringe' for this summer season that offers effortless fashion with function.
How did you get to your current position? I worked in TV for years. NBC, CNBC and then landed my dream job at The Oprah Winfrey Show. I was young and eager, ready and willing to do anything for those "AHA!" moments.
It was an amazing experience, but I decided to take a break to have a family. I have three kids (8, 7 and 4). About 2 1/2 years ago, I was really anxious to get back to work – using my brain in a different capacity. At The Oprah Show, I worked on many extravagant productions, fashion shows and makeover shows. I honestly think that's where I found my love for fashion. I was exposed to so many beautiful things, people, experiences – it really is infectious.
I just knew I wanted to be my own boss and I knew it needed to be creative and insane – that's what I am used to! I think that the best ideas are the ones that are created through your own needs, wants or loves. I love handbags, more specifically belt bags (some say fanny pack, but I am not a fan of that term). I thought there was a need for a cool, hip, edgier, mid range price point belt bag. I used every contact I had from working in TV and did my homework. It took time and A LOT of patience. I've had a huge learning curve, I had no idea how to begin. But, I know how to ask questions…lots of questions.
I was passionate about manufacturing in my hometown of Chicago, and was lucky enough to find an amazing workshop in the city. And, there 84Rockwell was born. She is my fourth child. My baby.
What time do you typically get up in the morning? I am up around 6:15 AMduring the week. Weekends – if I can sleep in – I will! I love my bed and I love my Barefoot Dreams Blanket (Oprah's Favorite Things).
How do you take your coffee and what do you typically eat for breakfast? Since I am racing around with three little peeps in the morning…I wait to reward myself with a Venti Non Fat Latte (a few sprinkles of vanilla powder) after my workout. I can't eat or drink my breakfast until after I workout. I also love yogurt or cottage cheese with fresh berries and granola.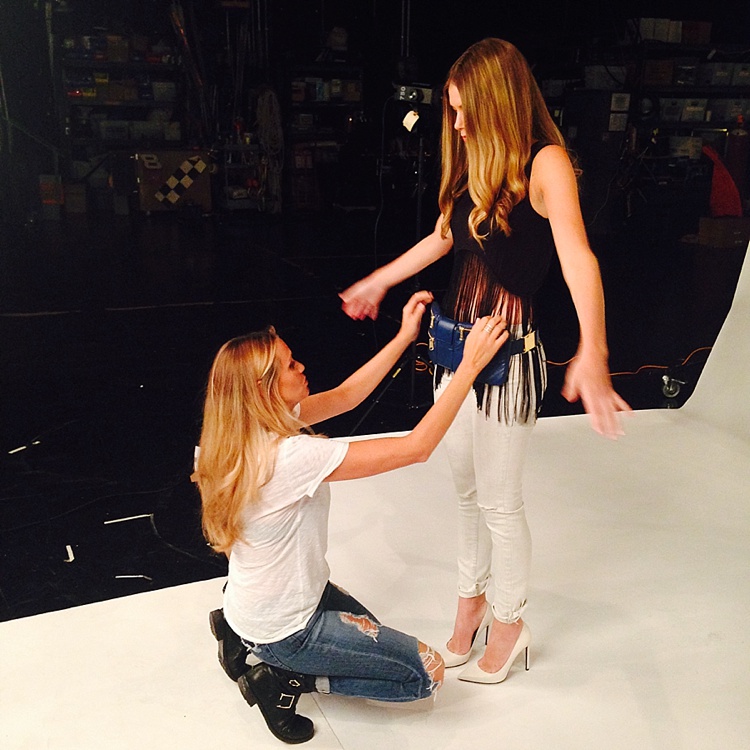 Quickly walk us through your morning routine: I get up around 6:15 AM roll over and read through my work emails, 84Rockwell orders, kids' activities for the day, check my Facebook and Instagram. Then, I am ready to awaken the beasts! (Actually, they are really great kids and I am blessed that they respond so well…at least for now!). Out the door by 7:30 AMwith the three littles. I drop them off at school and then I run for the hills! Or, Equinox. Get my workout in and then work on all things 84Rockwell.
What is the best way to get your foot in the door of your dream job? ASK A FAVOR! It doesn't matter how you got the job, it's what you do with the opportunity once you are there.
What resources do you use to stay organized and remember tasks? 
My iPhone calendar. I still love my spiral notebook and pen (always from Paper Source).
My manager (Chantel Luxem).
My friends and babysitter (to remind me that it's dress down day at school)!
What mistake do you see people constantly make that they should be aware of? Honestly, before owning my own business, I worked for Oprah. Pretty much everyone that worked there was on their "A-game" at all times. That place was run like a machine. Some of the most talented people grew up there. And, the best part is – we all grew up together – so we all started out getting Diet Cokes for our bosses. I never forgot where I came from…I guess that would be the one mistake I think people could make…forgetting where they came from…
How do you conquer your inbox? OHHH, if you saw my inbox you would hyperventilate. I am always bouncing back and forth between work emails, orders and my kids' schedules – it's scary. Right now – I am doing all the orders and shipping myself. But, I multi-task and take deep breaths.
How do you format your emails? Depends on the email. I do like to come across nice, polite and always say hello. And, always end on a positive note. Usually, with XX, BM84R.
How do you make time for working out and staying healthy? I think it's really important to workout – not just to stay physically healthy, but also mentally healthy. I was really athletic growing up, so it's great to be able to stay physically active. And, I want my kids to see that it's important too. I workout about 4-5 days a week. Circuits with my trainer and two days of private pilates at Equinox. I am also getting into Yoga now – which I love. I can never, EVER shut off, not even in a massage. But, I go to yoga and it's the one place I actually let go and just let myself be present. I love it. I find myself doing it at home now and my kids are always joining in…I also love handstands. Yep. I practice doing them every night or every morning (depends on how late I was out the night before). I am also a pretty good eater. I try to do a few Paleo days during the week. However, during the weekend – all bets are off. My husband and I love great food and even greater wine. Part of the reason I workout is to enjoy life!
What are your favorite tips for keeping an organized workspace? I love to check off the boxes! I love to feel that a task has been completed…so, I love to check things off my TO DO list. And, I am ALWAYS making TO DO lists for every aspect of my life.
What other pieces of advice/tips can you share? It's pretty simple…Treat everyone with the same respect. I think you give the janitor the same smile that you would the CEO. You are no more important than the person standing next to you.
Don't be afraid to fail. Greater risks equal greater rewards.
Start a conversation. Every great idea and great relationship start with a simple hello…You never know where that one conversation can lead you.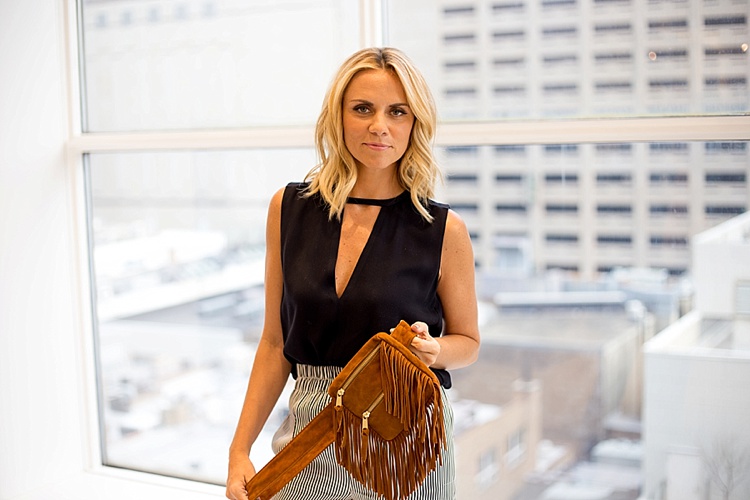 Favorites:
*Favorite Apps: Instagram, Pinterest, Opentable and Uber
*Favorite Resources: I am obsessed with Inc. Magazine (best read for all of us entrepreneurs)
* Favorite Books: Does Dr. Seuss count? I am being honest – right now I read books to my kids.
* Favorite Programs: Does every show on Bravo count?! Actually, my QuickBooks is pretty important and so is my Square.
* Favorite Websites: Who What Wear, Net-a-Porter, Forward By Elyse Walker, POPSUGAR, The Huffington Post and of course – 84Rockwell.com
* Favorite Gadget: My MacBook Air
*Anything else? 84Rockwell is actually where I grew up on the South Side of Chicago. To have the company named after my childhood address is pretty sentimental. I also name the bags after people who have helped shape or enhance my life. It's even more amazing that I have been able to manufacture my handbags in my hometown. It's not the easiest place to produce handbags, but I have a greater vision for 84Rockwell – you'll just have to wait and see.
Bridget, your story is incredible and you are quite full of amazing advice. Thank you so much for inspiring all of us and we cannot wait and see where 84Rockwell is headed!