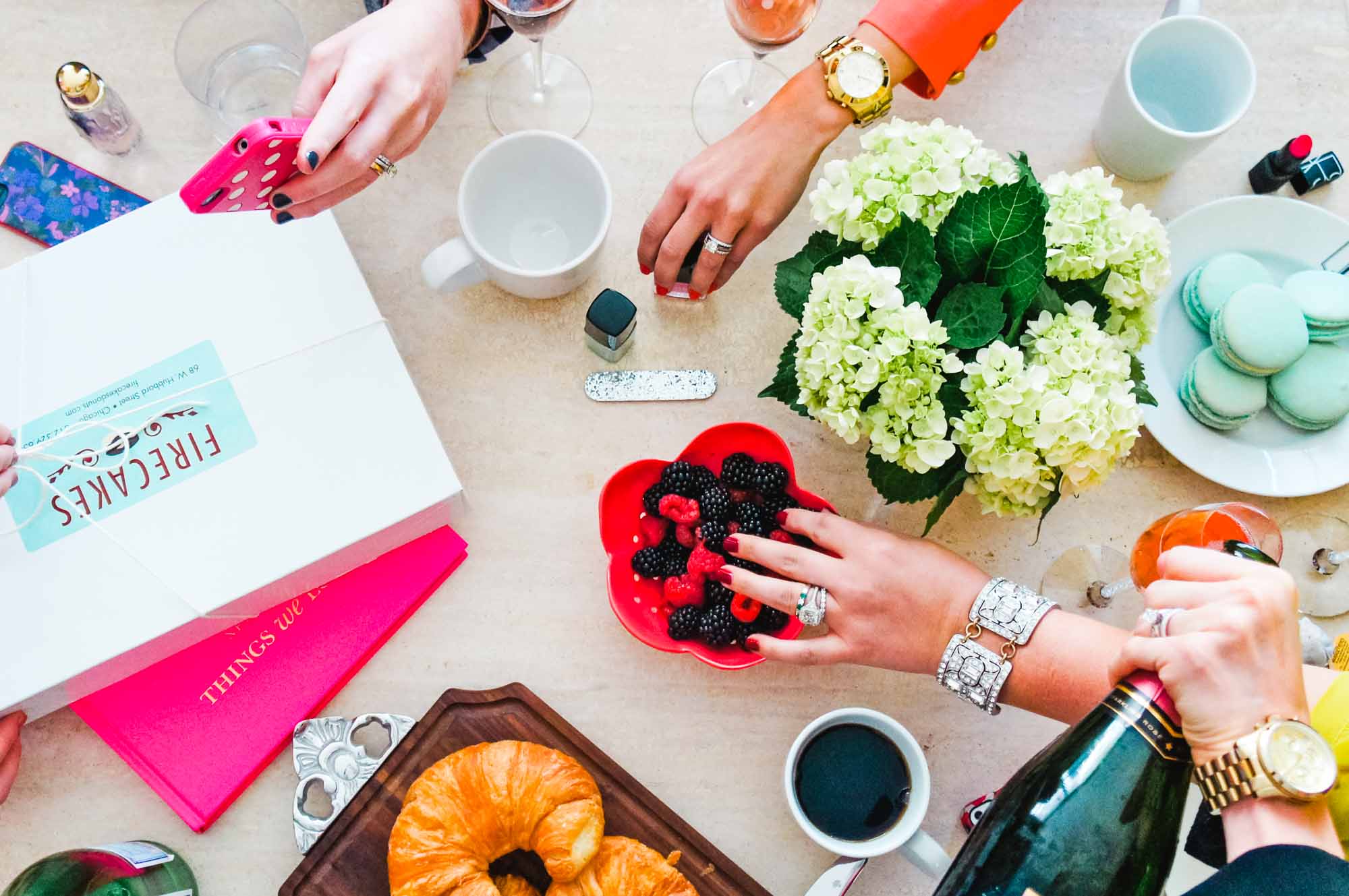 Happy Monday ladies! Today I'm sharing a very old (but one of my all time favorite) blog posts – 5 Ways to Style Your Wedding Rings. I stumbled across the original photos and made them all shiny and new (my photography editing skills have come a long way). Plus, it's officially wedding season, so why not right? Even if you're not engaged, these are some pretty combos to remember when the time comes.
Enjoy!
*****
Have you ever noticed the engagement ring receives all the attention? Well I'm here to tell you -wedding bands are giving their counterpart a run for their money. Literally and figuratively.
Bands can completely change the look of the engagement ring (great news if you were hoping for something different). You can also add on as the years go by (I'm talking anniversaries and push presents). And you can mix them up depending on your mood (stacking comes in all different orders). Pretty fun right?
So to show you what I mean, I invited five stylish ladies over for brunch and girl talk. And they spilled all the dirty details (thanks to the rosé!). Find out how they got engaged, how they style their rings and the meaning behind each one.
And believe me, there's more to these rings that what meets the eye. Take it away ladies!
Meet Brittney R || Ring Style: The Sandwich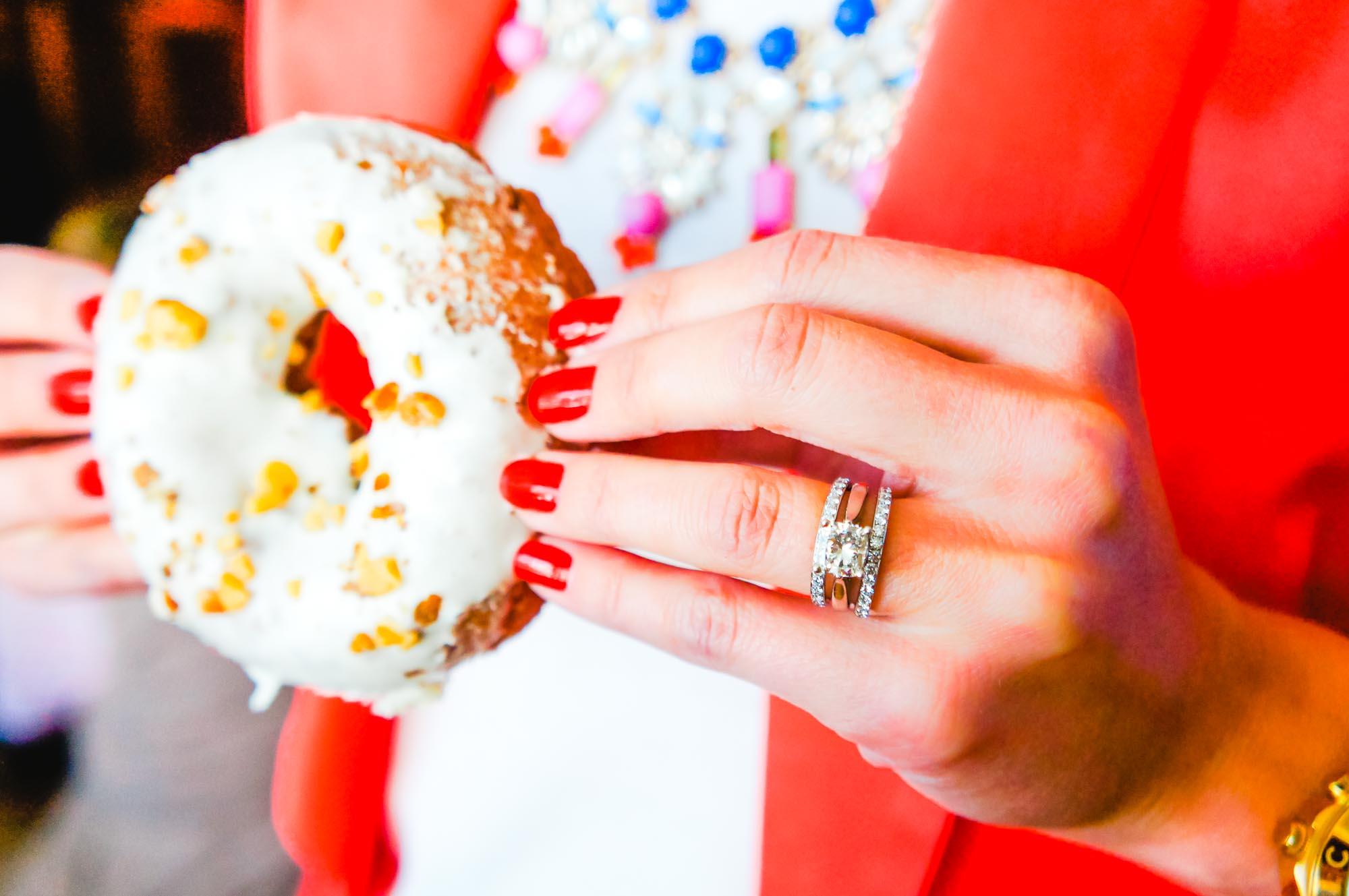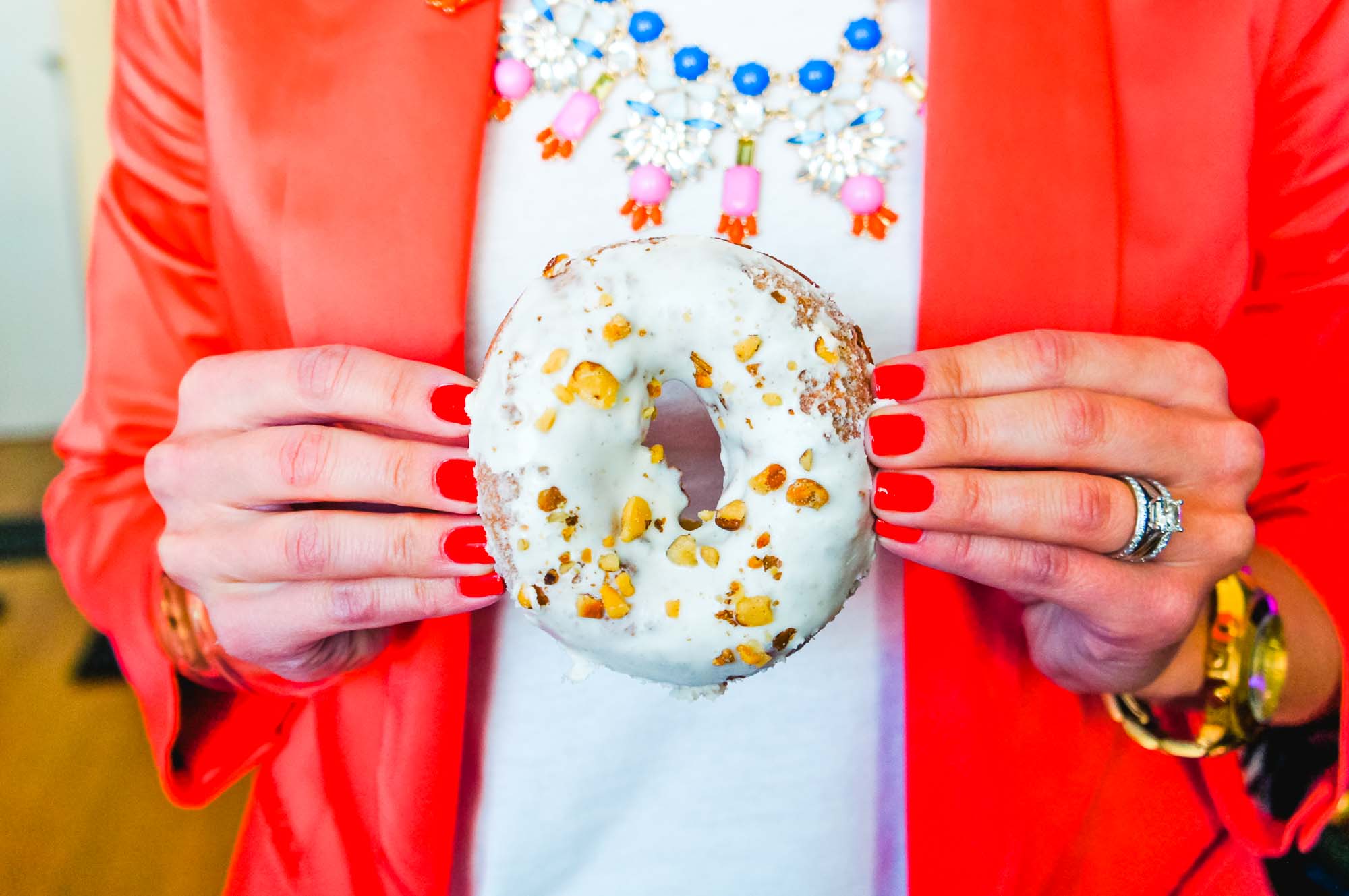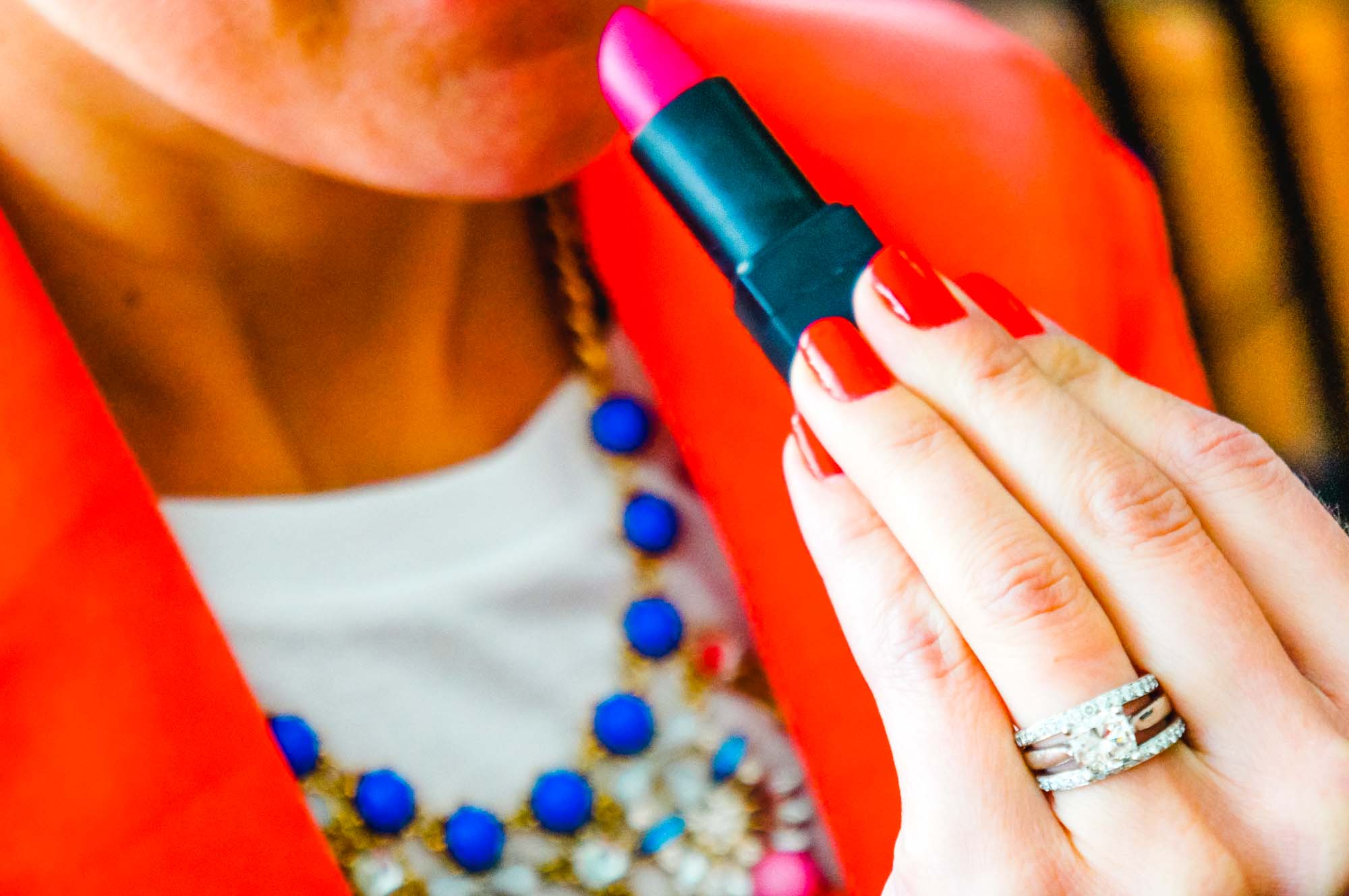 Brittney, tell us a little how you got engaged! Mark, my now husband, proposed to me about a week before my birthday. After dinner at Sunda, we headed back to our apartment (or so I thought). Instead of going home, Mark directed the cab to drop us off at the Waldorf Astoria. I was unsure what was happening but figured it was an early birthday surprise. Little did I know he had a suite reserved with roses, champagne and of course my engagement ring.

When did you receive each band? Mark surprised me with my second infinity band (third ring) after our wedding ceremony. We were in the trolley headed to our reception. There was a brief moment in the back of the trolley – and when no one was looking – he reached in his pocket and pulled out my second band.  It was a special moment between us before we headed to the reception to celebrate with all our family and friends. 
Why do you love your rings?  I love my wedding bands because Mark and I picked them out together. However at the time, I thought I was just choosing one. I also love how I can mix up the order of how I wear them. Sometimes I place two bands together or sometimes I put my engagement ring in between.
Meet Caroline || Ring Style: Mixed Metals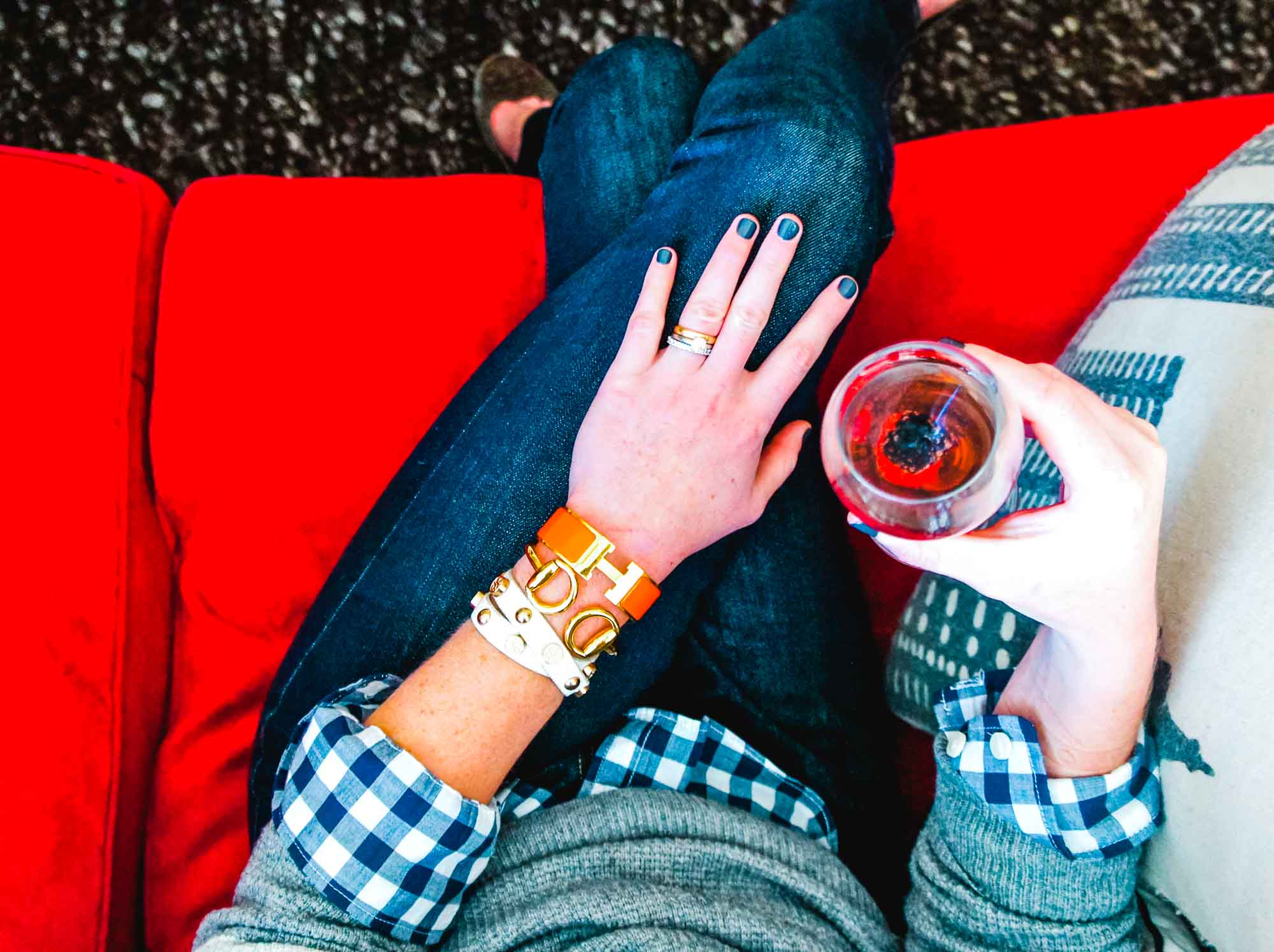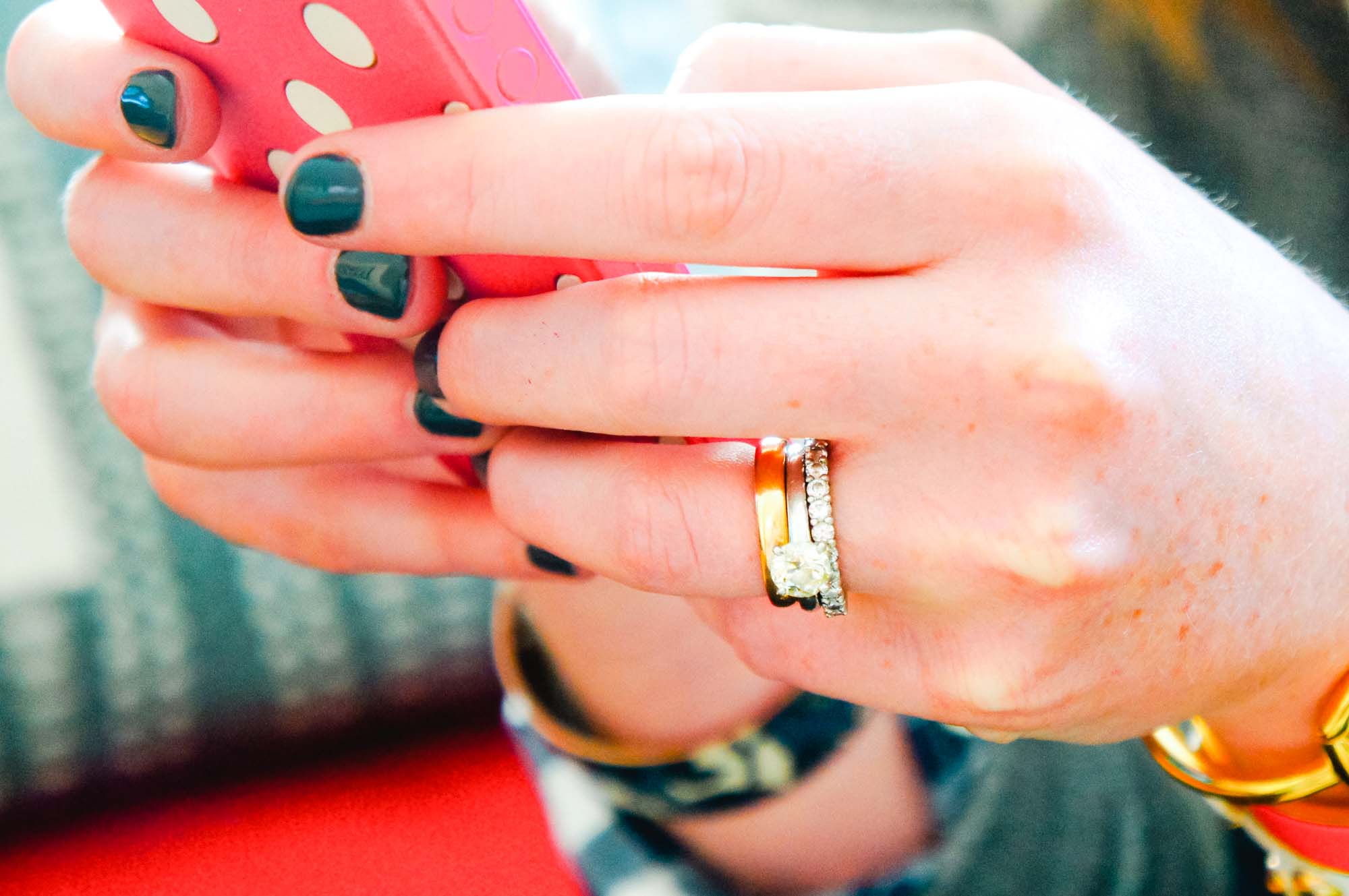 Caroline, how did you get engaged? James, my now husband, and I had been talking about moving in together. When we started looking at apartments, he told me he couldn't imagine spending the rest of his life without me and asked me to marry him! He then took me to dinner at Ralph Lauren and we stayed at the Westin downtown to celebrate.
When did you receive each band?  I received the engagement ring the day after Valentine's Day; the infinite diamond band on my wedding day; and the gold band on our first anniversary.
Your rings have so much family history. Tell us the story! The diamond on my engagement ring is yellow and I am the fifth woman in James' family to wear it. It was his great grandmother's. When he told his sister he was going to propose to me, she literally took it off her neck (she was wearing it as a necklace) and gave it to him and told him to give it to me!
The diamond wedding band is the "something new" on my hand. James and I designed it together.
The gold band was his great, great grandmother's on the other side of the family. It is inscribed with May 9th, 1911 – the day she married James' great great grandfather. James has a matching gold band with the same date.
What do you love most about your rings? I love my rings because they are a great contrast of old and new, gold and silver, diamonds and metal. They are neat on their own and together. They are so unique and I think they complement my style (and my marriage) perfectly!
Meet Stephanie || Ring Style: A Matched Set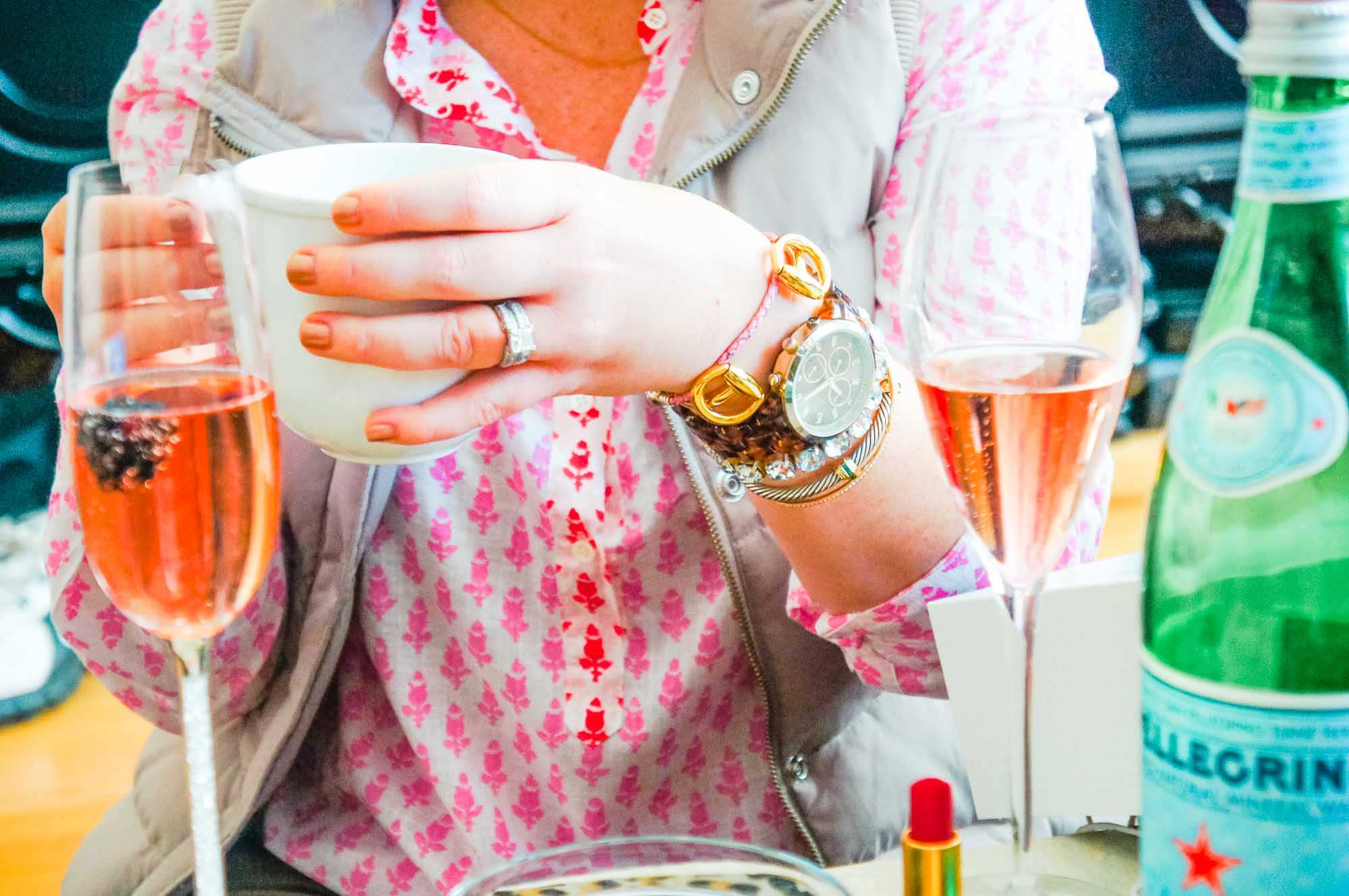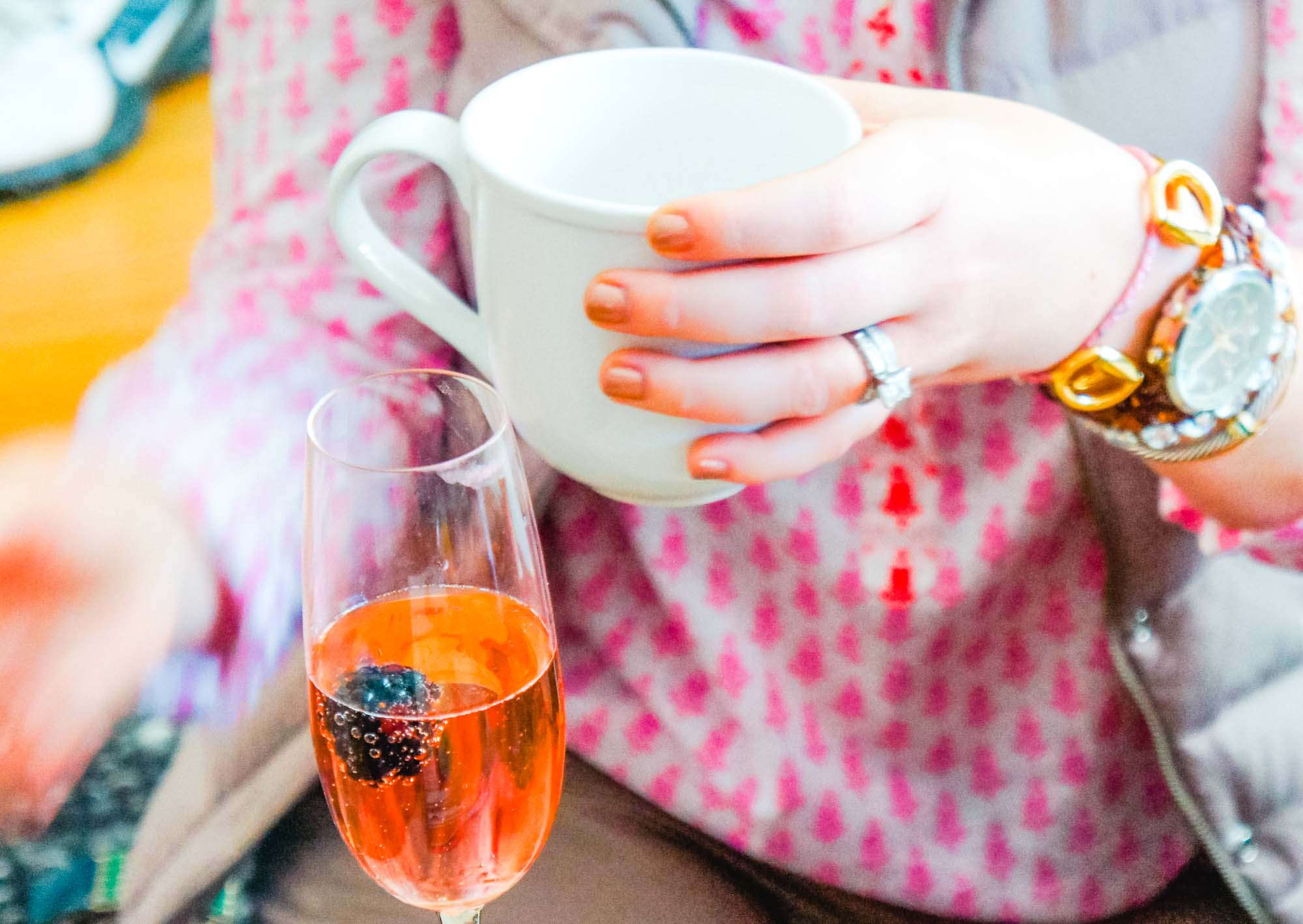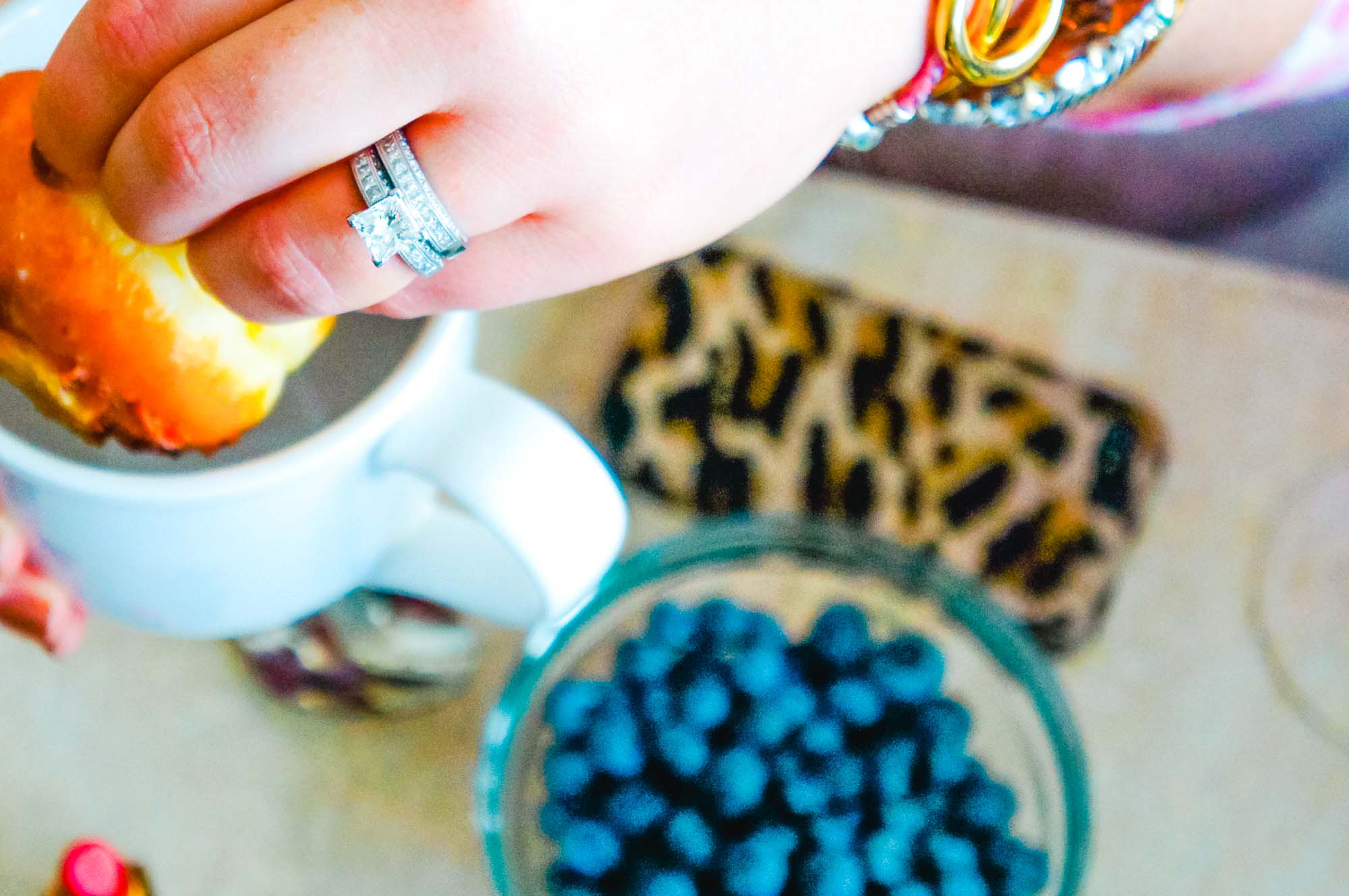 Steph, how did your better half pop the question? We were on vacation in Puerto Rico. We were three days into the trip, so I was quit surprised when he asked!
How did you pick the wedding ring? Initially we started looking at non-matching wedding bands. I was interested in mixed styles, but we went with one that was thicker than my engagement ring band. But it also matched. I love the detail of the diamonds on the sides and they're square in shape to match the center stone.
How do you feel about adding a third ring?  Honestly, I'm not sure. Maybe when we hit a huge milestone of an anniversary. But I guess we'll figure that out when the time comes. I have always admired Rachel Zoe's stack of rings before she upgraded. She had this infinity triple band ring that I loved.
Why do you love your rings? The thing I love the most about my engagement ring is that my husband picked it out all on his own. He did a lot of research on diamonds, bands, styles, etc. before selecting the perfect one for me. He also did it without telling anyone, which I think is the sweetest. When I was younger, I had this vintage ring that used to be my great grandmother's. I was very intrigued by the antique style of the band. In a way, I feel that my ring incorporates a bit of that, while still being very modern.
Meet Brittney B || Ring Style: Double Up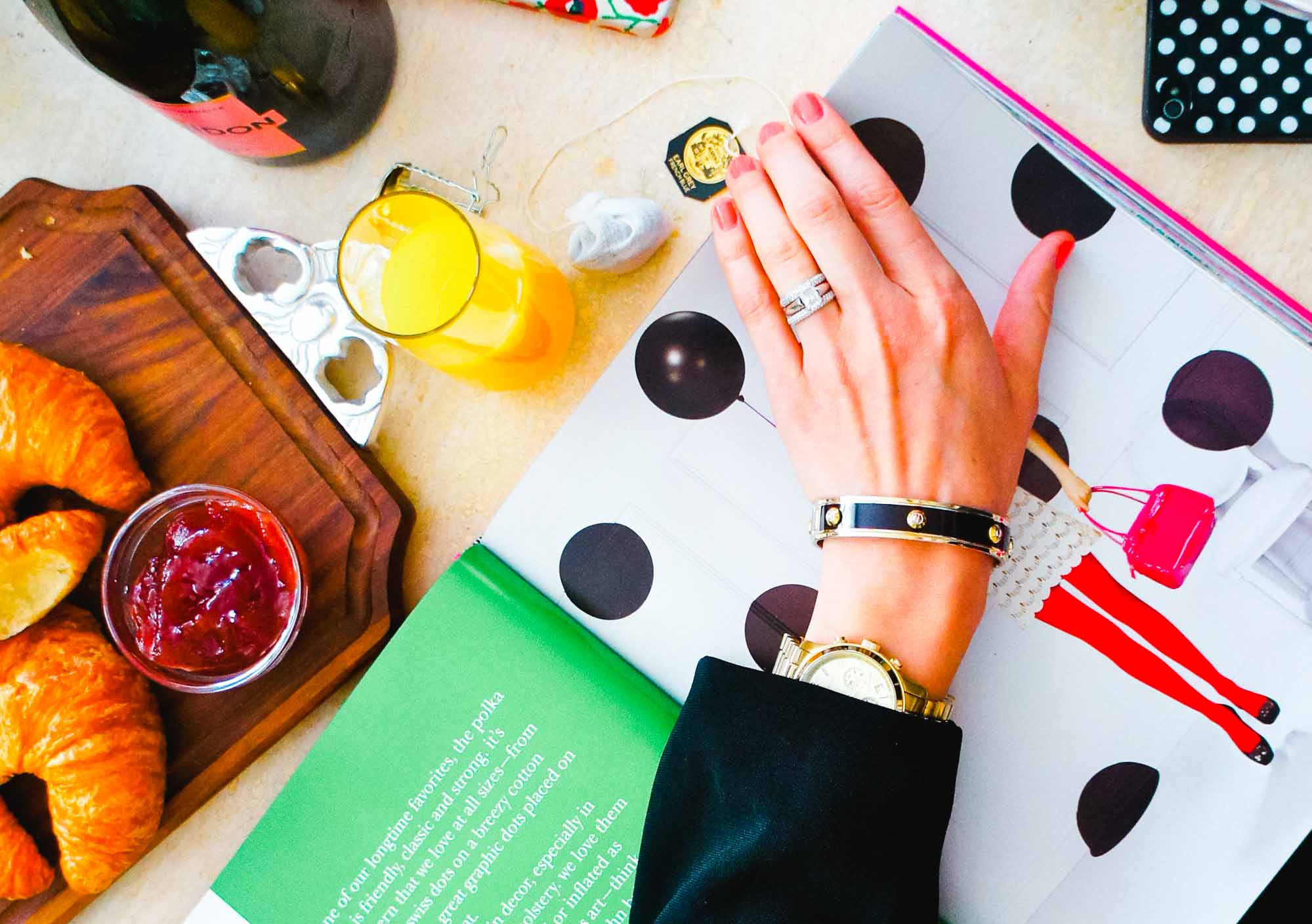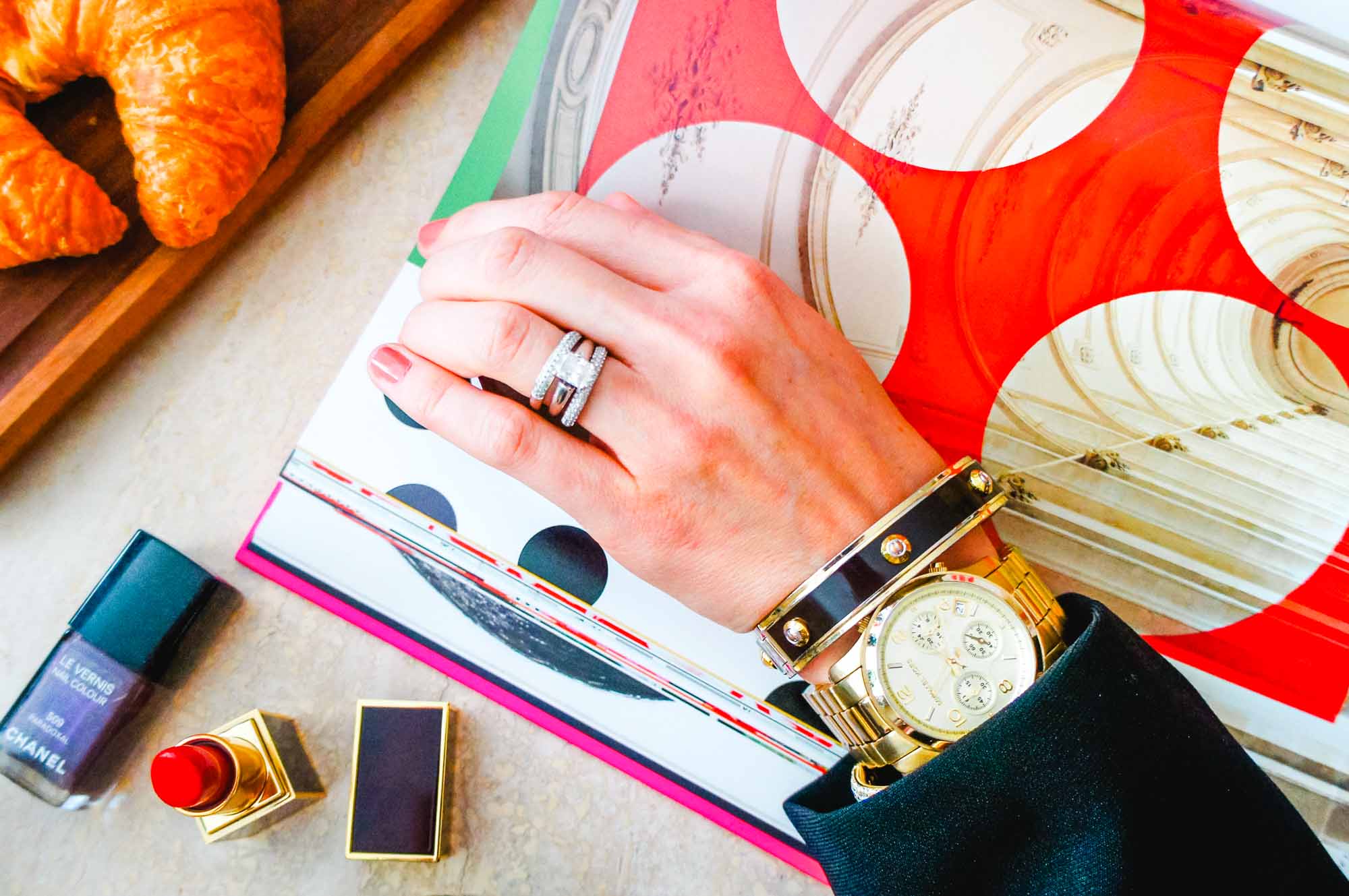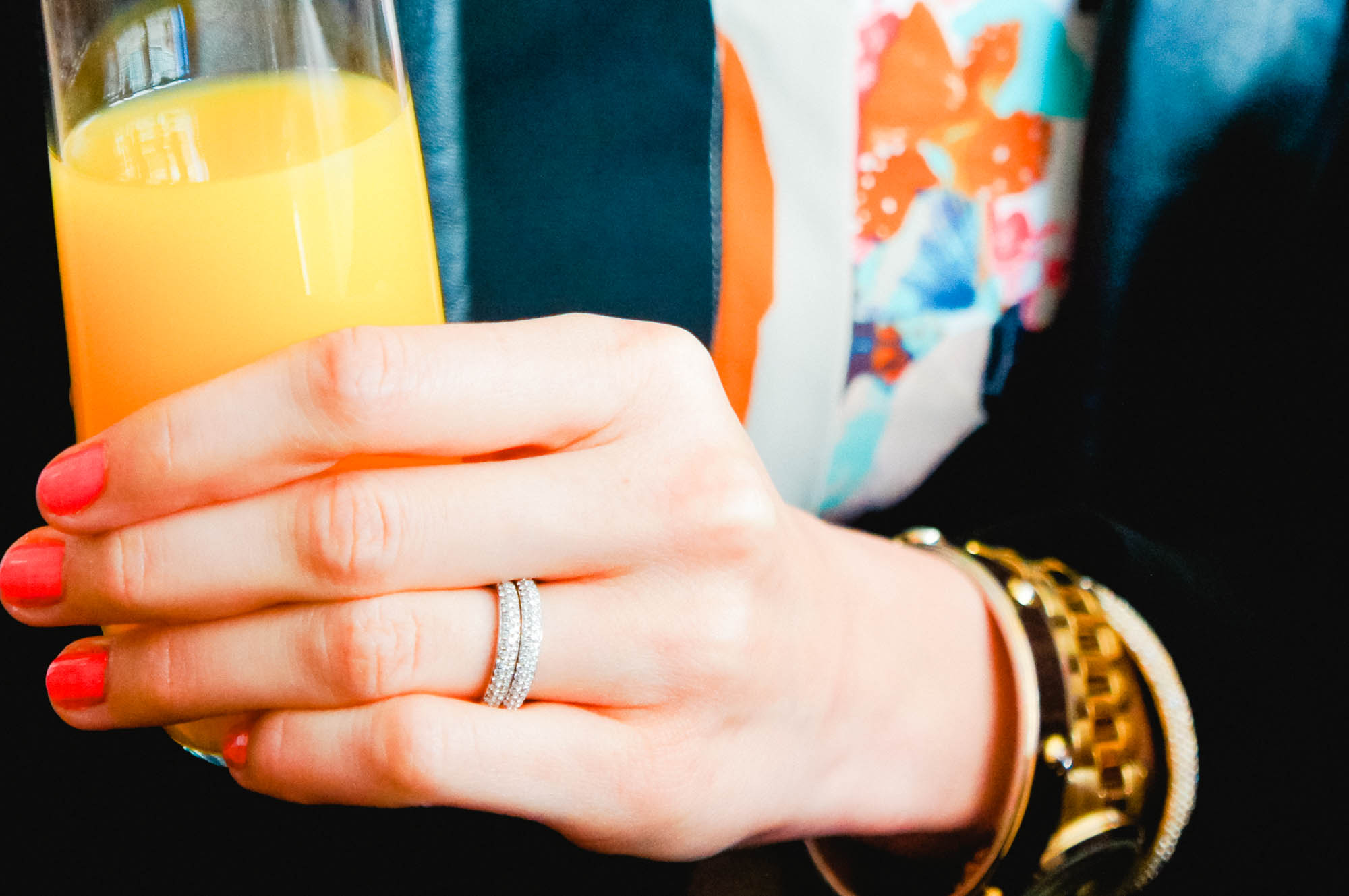 Britt, how did your husband propose? On the beautiful Hawksnest beach in St. John, shortly after we went snorkeling.
When did you receive the second matching wedding band (aka third ring)? I received the third band from Chris after the wedding was over. He hired a limo to drive just the two of us around the city and gave me the ring, along with a little love note.
Why do you love your rings? I love my rings because they are beautiful, sparkly and classic; yet the radiant cut makes it unique. But most of all I love them for what they represent. I typically wear all three on my left ring finger. However for the first eight months of my son's life, I just wore the two wedding bands for fear of scratching him with the larger stone on my engagement ring.  I still do this occasionally because it is effortless and still gets the job done.
Meet Marissa || Ring Style: A Pop of Color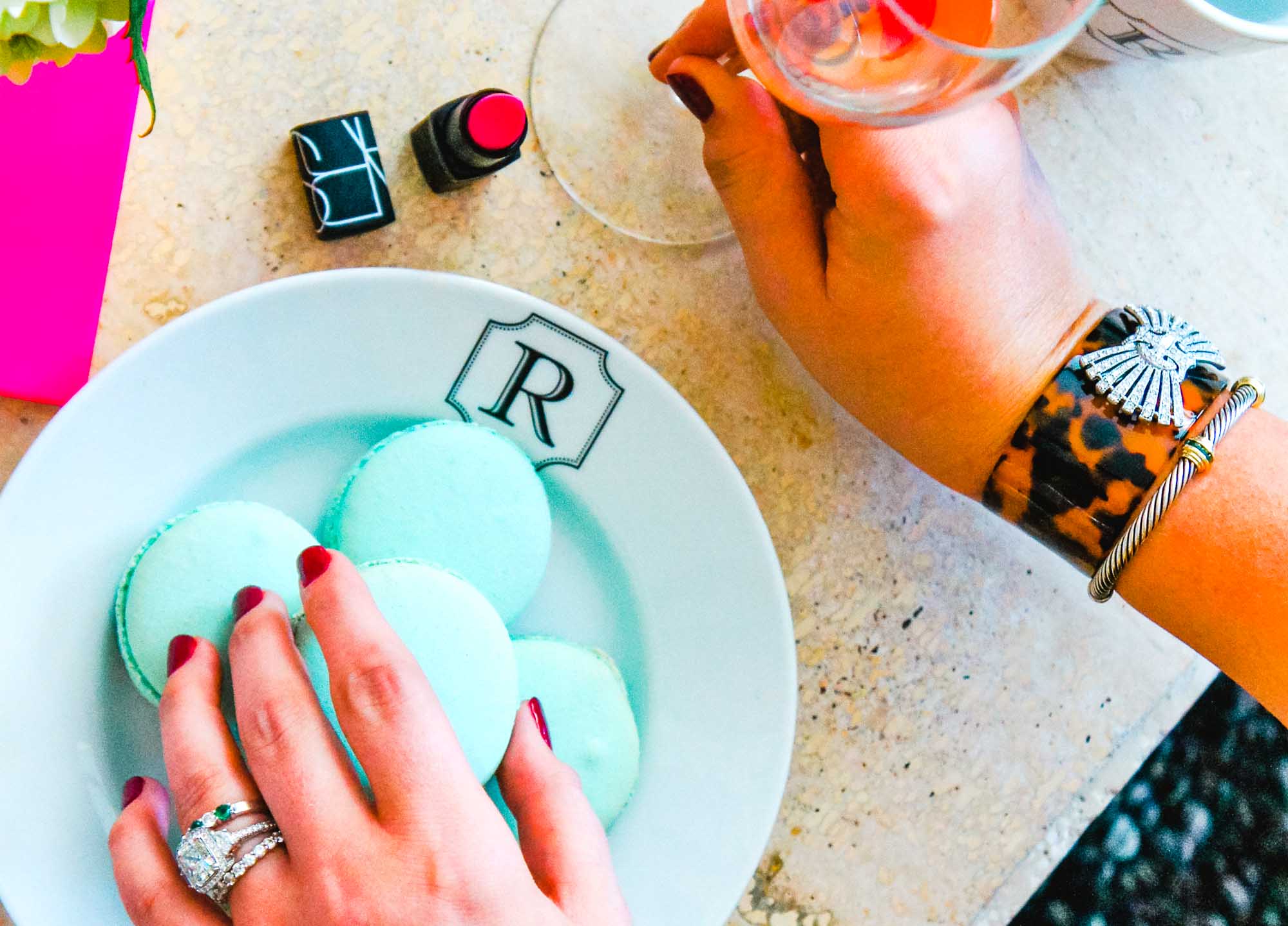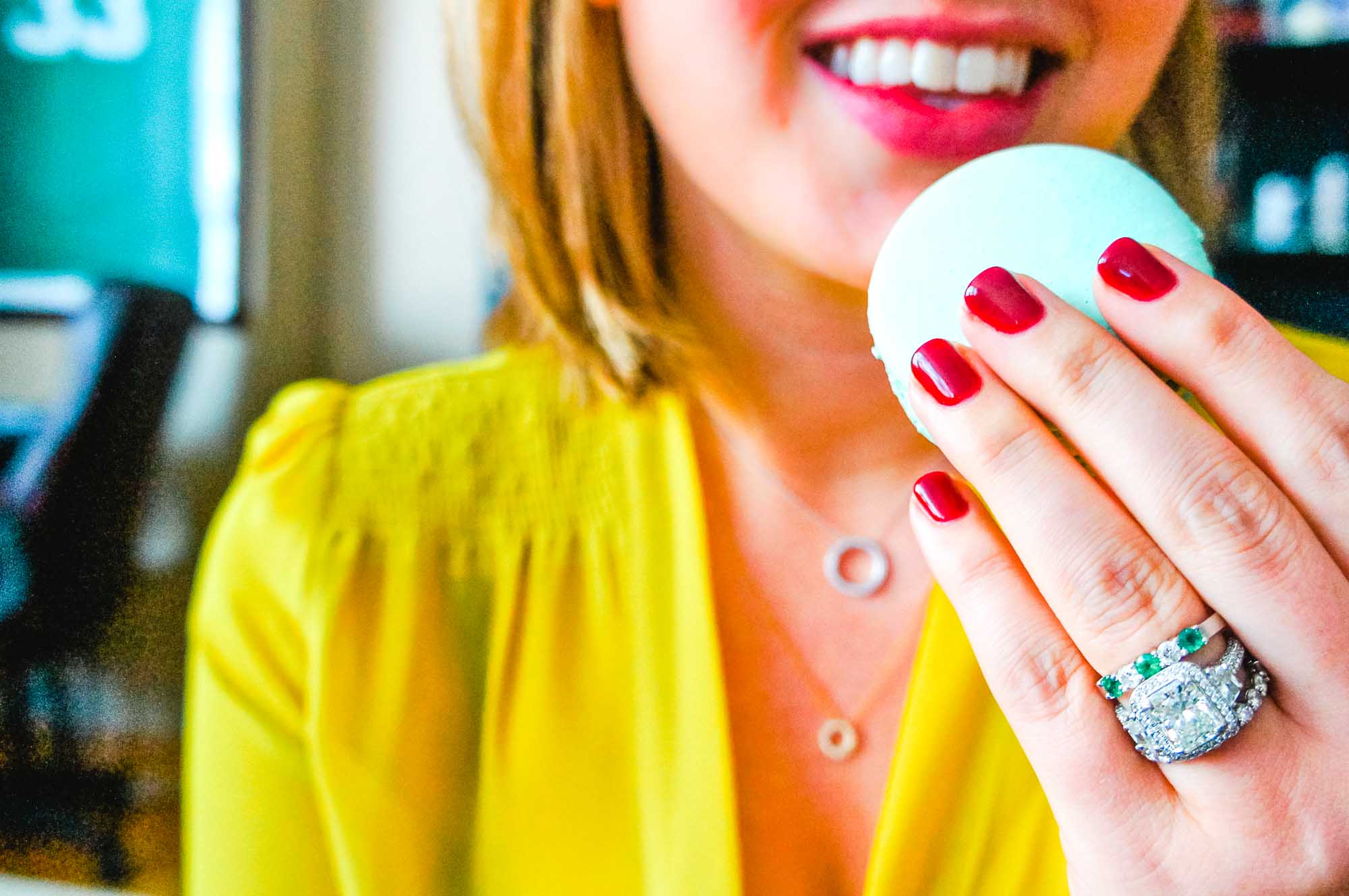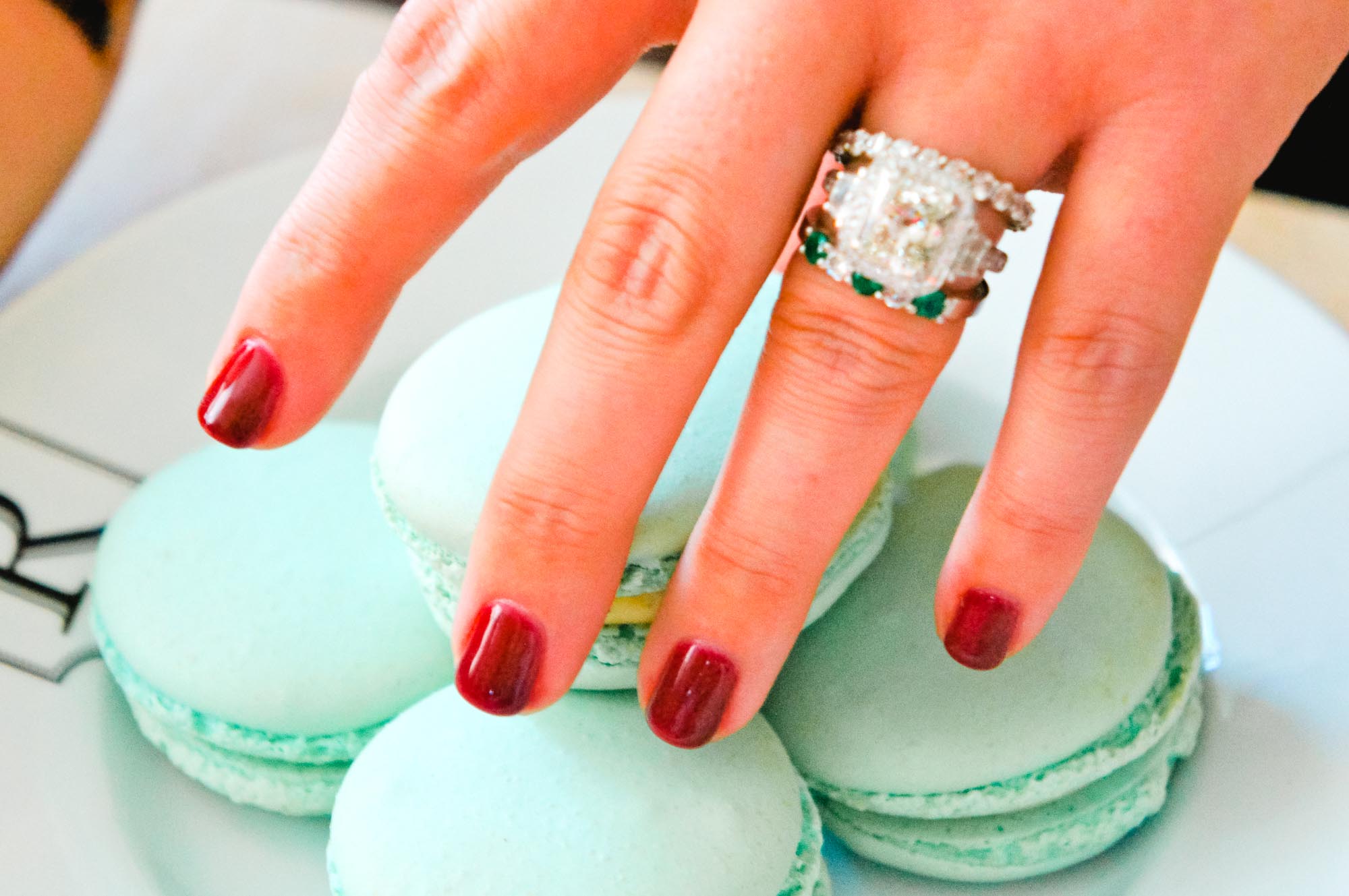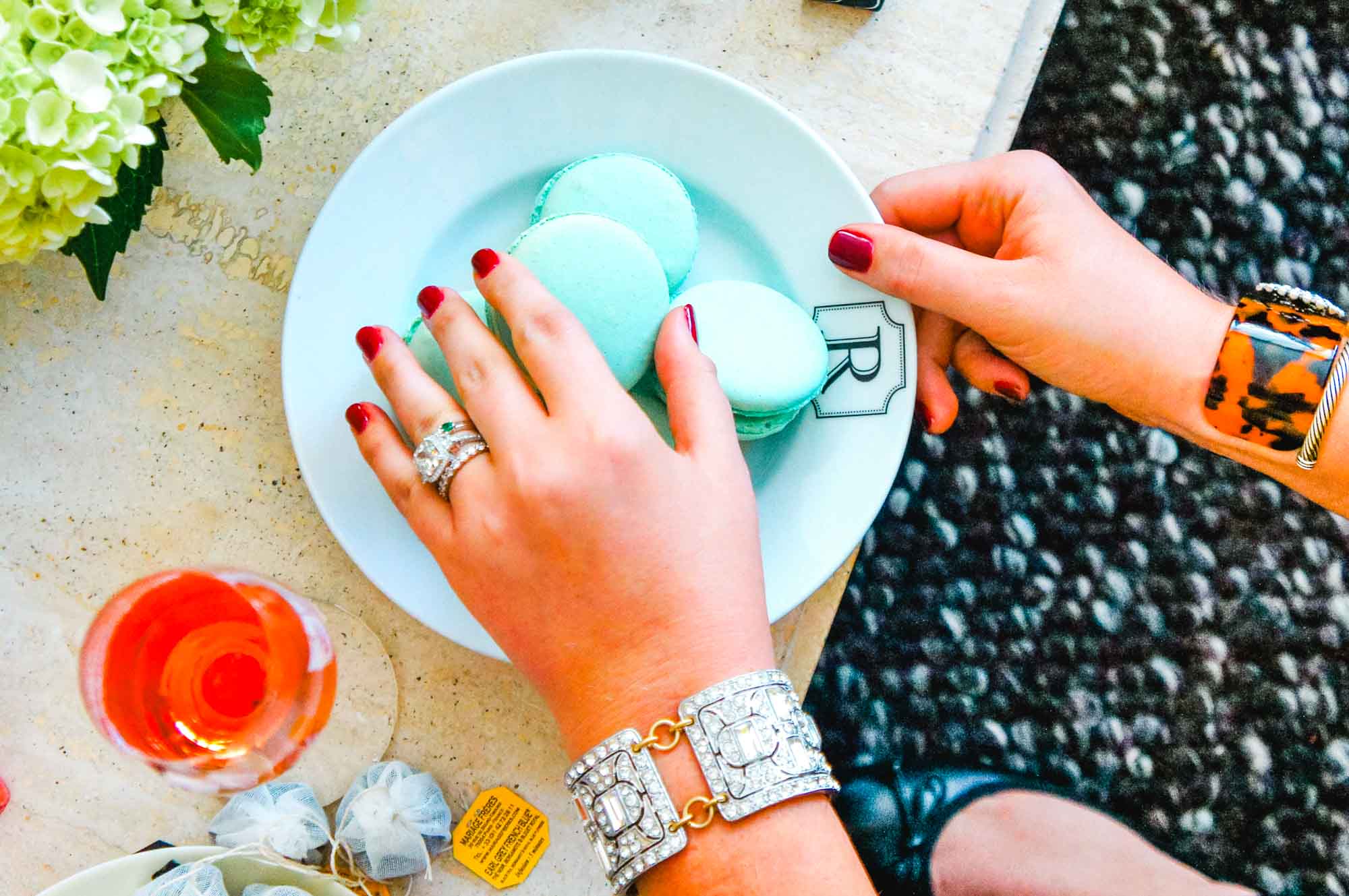 Marissa, time to tell us how you got engaged! We were celebrating my birthday with a nice dinner that downtown. Upon walking out of our Old Town apartment, I was surprised with a horse and carriage ride. We rode around the Gold Coast neighborhood and admired all of the Christmas lights. Then the carriage pulled up to one of our favorite restaurants, Il Mulino (it has since closed unfortunately). Brent then got down on one knee and proposed inside the carriage! We had an amazing dinner and an unforgettable evening.
When did you receive each ring? 
Engagement ring – the night we got engaged
Diamond wedding band – wedding ceremony
Emerald and diamond ring guard – prior to the wedding ceremony, we had a "first look" and gave each other gifts. Brent gave me an emerald and diamond band in a platinum setting to match my set.
Any special meaning behind them? The emerald band is an exact replica of ring guards both my mother and grandmother had as part of their wedding sets. They both have May birthdays. Although emeralds are not my birthstone, I wanted to create a tradition by replicating this same ring set.
Why do you love your rings? My engagement ring is a one-of-a-kind, art deco piece purchased from a Chicago estate sale.  I live for antiques in any capacity and the fact that another woman wore it, gives it an interesting history. My husband had the initials of my maiden name (MM) engraved on either side to personalize it to me as well. I also love what the ring set represents: an unbreakable union with my best friend and the moments we share together.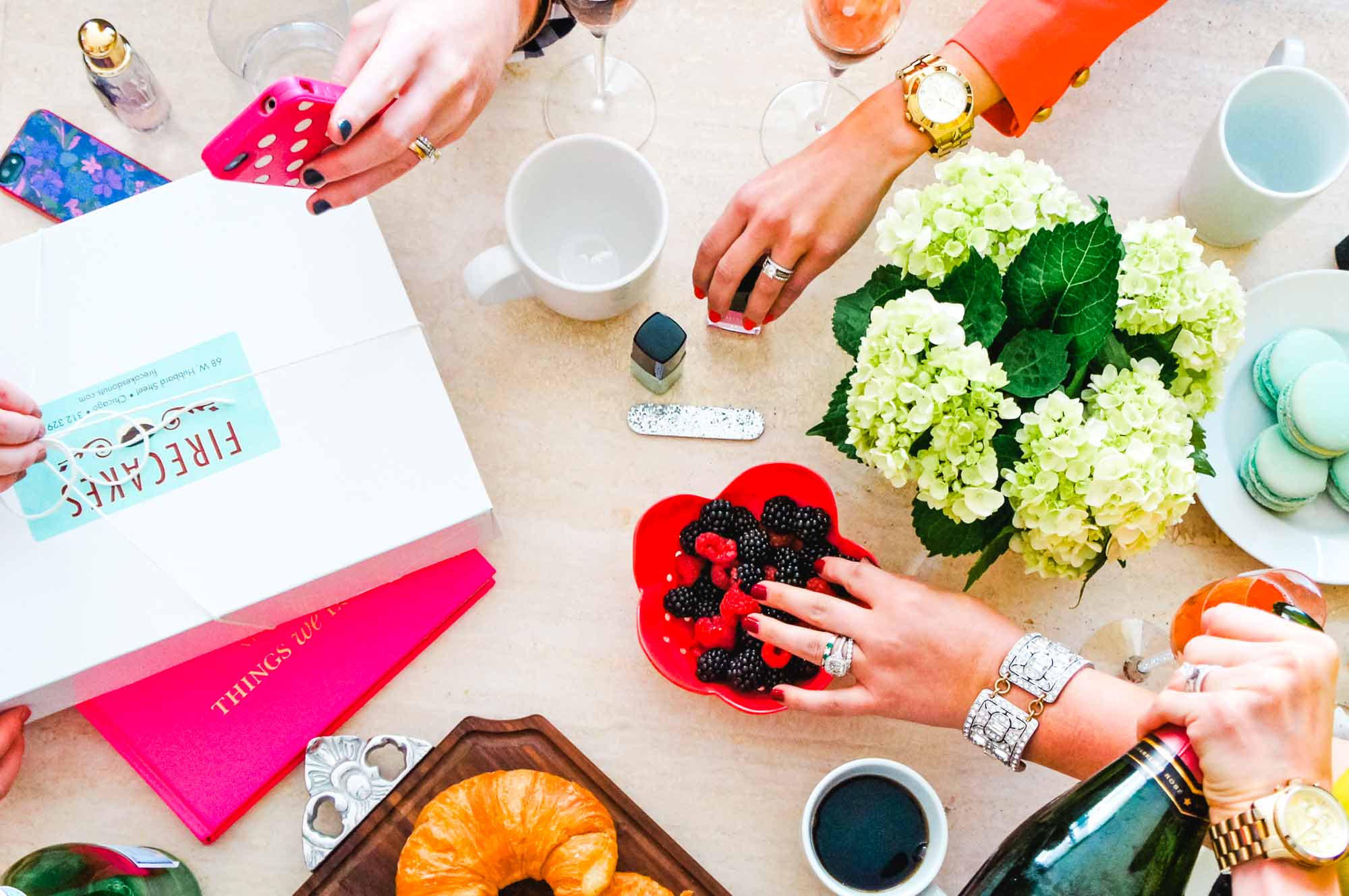 As you can see, there are several ways to go about styling your wedding bands! I love how you can incorporate a story or piece of history into something so beautiful.
So how do you wear your rings? Do you mix it up? To all my single ladies, what is the ring of your dreams!
As for me, I have one wedding band that matches my engagement band. And Sean picked out the engagement ring all by himself 🙂
A big thank you to Brittney R, Caroline, Steph, Brittney B and Marissa for sharing your sweet stories and showing us your GORGEOUS bling! Since it's been a few years ladies, maybe it's time for a new addition 😉 They are absolutely stunning girls and hats off to your husbands.
Would you be interested in sharing your proposal story and how you style your rings? If so, please send me an email. I will be doing this same feature again – different bling!



MORE RING BLING
---